What Women Want from Marketers
You'd think that by 2023 marketers would have a grip on what women want. And while some may find it difficult to believe, what most women want is to be heard, seen, and authentically represented.  
According to our client Nielsen, by 2028, women will own 75% of the discretionary spend, making them the world's greatest influencers. Ignoring this data point would put marketers in a vulnerable position among competitors. So, what's the hold up? 
Women as a group are often considered a monolith, but the reality is that we are just as nuanced as any other community. Our experiences are arguably the most diverse when we take into consideration that we're not just talking about gender. But rather, women come from varied socioeconomic backgrounds, cultures and ethnicities, are challenged with health and physical differences, and have constantly fought social inequities since birth. It's time for marketers to recognize these realities and reflect those lived experiences in marketing practices when trying to reach and form genuine, lifelong connections with women. 
Although there is a long way to go as it pertains to authentic representation of women in marketing, in celebration of Women's History Month, we wanted to highlight several brands that are putting in the work to recognize and embrace the realities that come with being a woman.    
Clearblue's Digital Pregnancy Test Showcases Raw Emotions from All Women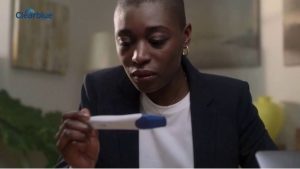 Photo Credit: Clearblue
Some women dream of becoming mothers, some may have already achieved that goal, while others aspire to share life's adventures with their significant other or alone. There are also those who will never see the day of becoming a parent because of the unspoken reproductive health issues women face. No matter the circumstance, it's no secret that there are many obstacles that women go through when speaking of pregnancy, and Clearblue recently shifted that narrative.
Its 2022 digital pregnancy test campaign placed a spotlight on the raw emotions women go through after getting their results. This commercial acknowledged women that are left unheard and captured the true and organic emotions that brands overlook. With viral praise over social media, we too, align with women everywhere screaming, "Finally!"
U by Kotex Ditches Blue Liquid to Capture the Reality of Menstruation

Photo Credit: U by Kotex
Periods are a real thing. Get over it! We have been programed for centuries to suffer in silence and are even expected to be politically correct when talking about menstruation. Well, Kotex decided enough with the sugarcoating! It's time to be real and get personal.
For years, brands have used blue liquid to prove absorbency levels for the mere reason of making others feel comfortable. But the truth is periods are uncomfortable. It is the literal shedding of women's uterine lining. Sugarcoating this natural phenomenon is a disservice to the amazing power women's reproductive organs hold.
With as subtle of a change by switching from blue to red dye, Kotex showed up for women. This effort spoke volumes and emphasized that by being organic in how marketers communicate with women, brands can create true connections by simply saying, "we see you."
From YouTube Influencer to Beauty CEO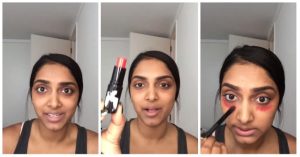 Photo Credit: Deepica Mutyala's YouTube
After Deepica Mutyala's YouTube color-correcting hyperpigmentation makeup tutorial for darker skin tones went viral, she then founded her beauty brand Live Tinted just two years later. With a keen eye on her audience, Mutyala has shown that knowing your customer and understanding their needs is everything.
As a brand whose foundation was built on catering to individuals with darker skin tones and textures, Mutyala created a space for individuals of diverse backgrounds to be seen.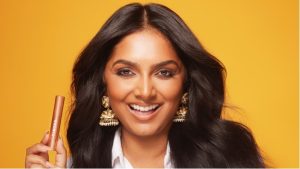 Photo Credit: Live Tinted | Deepica Mutyala
It's to no surprise that by identifying a business opportunity to create for an audience whose identities and beauty needs have been historically ignored that Mutyala and the Live Tinted brand have become a household name for individuals from the South Asian, Brown and Black communities.
Let's check out some statistics. According to McKinsey, spending on beauty among the Black community has shown continuous growth in recent years. In 2021 alone, African-American consumers spent $6.6 billion on beauty – 11.1 percent of the total US beauty market. Respectively, in 2019, Latinas alone spent more than $2 billion on makeup products in the United States, accounting for 18 percent of total spend for that year, according to Mintel.
Yet, despite significant spending by both multicultural groups, it wasn't until minority-owned brands like Live Tinted, Fenty Beauty, UOMA and others, that large conglomerate beauty brands were challenged to step up and stop ignoring such powerful and influential consumer groups.
As they say, success is not only measured by money, and the funding strategy behind the Live Tinted brand speaks volumes to that testament. The brand recently hit new heights by closing a Series A Fundraising round of $10 million, bringing the brand's lifetime funding to $15 million to-date. Live Tinted is the epitome of knowing your audience, staying true to your values, and betting on organic growth. You go, Deepica!
Fenty & Savage x Fenty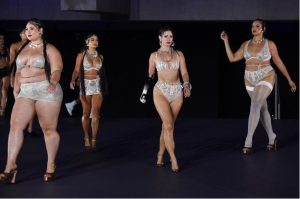 Photo Credit: Savage x Fenty Amazon Prime Fashion Show | Courtesy of Shaholly Ayers
As Fenty Beauty's 40 shades of foundation wasn't enough, the all-powerful Rihanna brought her diversity and inclusion practices to the lingerie world. "I want to make stuff I can see on the people I know, and they come in all different shapes, sizes, races, and religions," said the mogul. And that's exactly what Rihanna and her team have achieved.
Embracing women's and men's beautiful differences, Rihanna's Savage X Fenty lingerie brand celebrates diversity by featuring models from all walks of life. From plus sized models to gender neutral clothing and featuring those with disabilities, the range of products created by Savage X Fenty has captured the attention of consumers from historically underrepresented consumer groups since its inception.
Most recently, the brand is challenging its own diversity efforts by partnering with fit technology company Fit:Match to launch a new iteration of Fit Xperience, an in-store digital fitting tool that scans customers' bodies and provides product recommendations. According to the brand's press release, the technology debuted at the Fenty X Savage Lenox Square Mall in Atlanta, Georgia last month. In under 30 seconds, the tool maps the shopper's body to create an avatar to compare it to other similar bodies in an effort to recommend products ideal for the customer's fit.
+++
While there are evident strides that the lifestyle industry has made in recent years, we applaud our minority counterparts and general market brands that have put in the work to act on the apparent business need within our multicultural communities that others have disregarded in the past.
To learn more about how we authentically create campaigns that resonate with multicultural audiences, review our work webpage.
Aquinas Early is a Vice President at Flowers Communications Group leading our consumer and lifestyle marketing practice.