Social Media Proclaims that #OscarsSoWhite is Still the Case After Last Week's Announcement of the 2023 Nominations
Understanding the powerful impact of social media, we always have a pulse on current cultural moments and conversations.  So, we were on heightened alert last week.  The 95th Academy Award nominations were announced, recognizing outstanding artistic and technical feats in cinema for films released in 2022.  We were anxious to see if diversity would be center stage, given the growing influence of Black and Brown actors, producers, writers and many other creative talents in Hollywood.  A number of expected recognitions and firsts were celebrated this year, with Michelle Yeoh, Angela Bassett and Elvis among the stars and films setting new records. However, fans were quick to jump on social media to voice their frustration at the ongoing lack of female and racial diversity in this year's categories.
After two consecutive years of women winning the Best Director Oscar, the Academy failed to acknowledge any women in the category this year. The lack of female nominees in the category is not an accurate representation of the talented women who directed acclaimed films last year. Excluded from the category was Gina Prince-Bythewood, who directed the popular historical epic The Woman King, leading a talented cast and crew of Black women while also grossing nearly $70 million at the box office. More female directors that deserved rightful recognition are Domee Shi, director of Pixar's heartwarming film Turning Red, Charlotte Wells' indie wonder Aftersun, and Sarah Polley, who emotionally crafted Women Talking.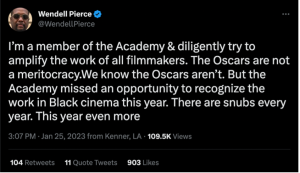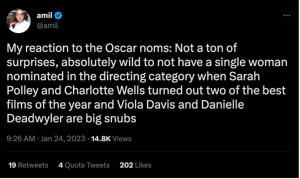 Another exclusion from the Academy's nomination announcement this week is the complete ice-out of Jordan Peele's latest thriller, Nope. The acclaimed science-fiction film had buzz from critics and audiences for an original screenplay nomination and hopeful nominations for Nope stars Keke Palmer and Daniel Kaluuya. Both actors had amazing chemistry as siblings on a mission to document the ominous flying saucer they discovered above their family's ranch. Palmer also received a New York Film Critics Circle Award for supporting actress in December. Fans were rightfully disappointed, striking up conversations about the exclusion of the horror and thriller category for the Academy's considerations and the irony of the Oscars excluding a film that addressed the exploitation of BIPOC filmmakers and crew in Hollywood.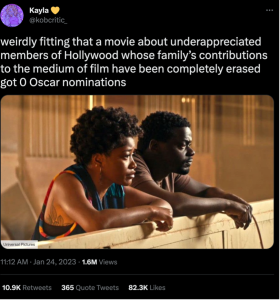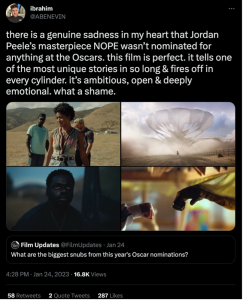 One of the biggest outcries from this year's Oscar nominations was the complete lack of Black diversity in the Best Actress and Best Actor categories. In the entire 95-year history of the Oscars, the only Black woman ever to win Best Actress is still Halle Berry in 2002. Most notably, both Viola Davis (The Woman King) and Danielle Deadwyler (Till) were shut out of the Best Actress category after months of campaigning at the front of the race. Davis' performance of a strong-willed leader of an elite group of African female soldiers received great praise and reviews from critics and audiences. Likewise, Deadwyler's portrayal of Emmett Till's mother, and her quest for justice for her slain son, was met with universal acclaim as well as nominations at the Critics Choice Awards and Screen Actors Guild Awards. The snub of these two actresses drove a discussion by film fans on the unfair uphill battle that Black actresses have when receiving awards recognition in Hollywood.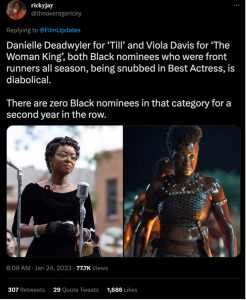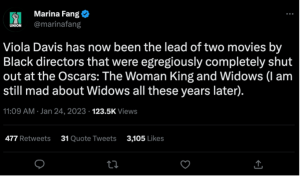 While the Academy still has a long way to go in creating more diversity across the board, Latinos scored some impressive nominations this year. Ana de Armas made history on Tuesday with her Best Actress nomination, being the first Cuban to be considered in a lead acting category. Armas transformed herself for her performance as Marilyn Monroe in the fictional psychodrama Blonde, receiving a 14-minute-long standing ovation at the Venice Film Festival in 2022. Along with de Armas, only four other Latinas have been nominated for Best Actress, with none taking home the award yet. Other Latinos who received nominations for the 2023 Oscars include Mexican filmmaker Guillermo del Toro for the animated film Pinocchio and Mexican director Alfonso Cuarón for best live-action short film for Le Pupille.  Argentine filmmaker Santiago Mitre was also nominated this year for best international feature film Argentina, 1985.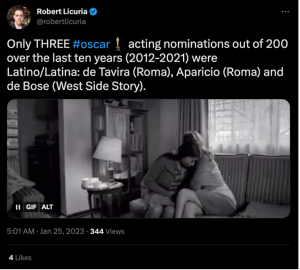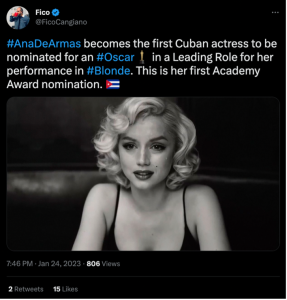 In 2015, the Academy made a public commitment to diversify their voting body. That year, #OscarsSoWhite was a cultural movement, calling fans to action when the Academy failed to nominate a single actor or actress of color. Since the so-called reckoning of the voting body, Michelle Yeoh is only the second Asian woman to receive a nomination for Best Actress. Still no Black woman has ever received a directing nomination and after six total nominations, no Black men have won the Oscar for Best Director. As for Latino representation, to this day only six Latinos have gone home with an Oscar from their respective categories. This track record of exclusion of Black and Brown talent by the Academy deserves ongoing scrutiny, as the audience of film lovers demands to see diversity that reflects their own. By sharing their opinions on social media, today's fans are urging the Academy to learn from their mistakes, continue to work to dismantle deeply-rooted prejudices and stereotypes, and rightfully celebrate the rich diversity of Hollywood talent who have given their heart and soul to their crafts.
By: Alejandra Mena, Media Relations Account Executive at FCG