Presentation is Half the Battle
Presentation is Half the Battle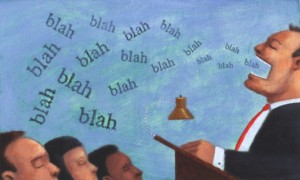 Presentations are a big part of the job here at FCG (both presenting and listening to others present) and I've sat through my fair share of cringe-worthy ones. Here are some quick & dirty tips from common errors I've noticed that could help make the difference between people wanting to work with you, or checking Facebook until your presentation is over:
1. Keep it Short
I know there's a lot of information to share with the audience, but it's more important to be timely.  You wouldn't want to be stopped mid-sentence before you've had the opportunity to present all you've prepared.  (I've seen it happen.) Time yourself and practice beforehand so that everything you have to say gets across.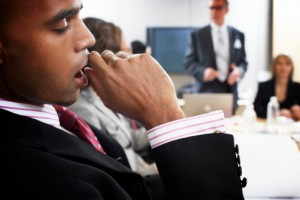 2. Make your Presentation Visually Interesting & Organized
Whether it's a PowerPoint presentation, video presentation, or chalkboard presentation, it should clearly illustrate your talking points. Charts, photos & graphs are a plus. Some presentations have been difficult to read due to tiny or overly-artistic fonts, dark backgrounds with even darker fonts, misspelled words, etc. No dice.  Keep it simple. It's not the best time to test your graphic design skills.
3. Get to the Point – What Are You Asking For?
I've witnessed people do entire presentations without making an actual "ask." Whoa there! What, exactly, do you want? In-kind donations? Volunteers? Sponsorships? Most people aren't mind-readers, so be specific and make the ask.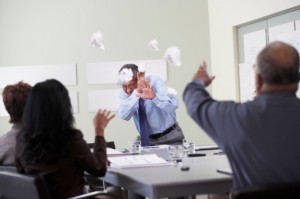 4. Keep the Audience in Mind – How Can YOU Help THEM?
Sure, you have a great organization. The next big idea. A business plan destined to make millions. That's all great. How does that help the audience you're presenting to?
Communicate clearly how a partnership with you will mutually benefit them.
5. If You Have Stage-Fright, Sit Down
Some people really struggle with public speaking… if you are one of those people, don't be the one to do a presentation on behalf of your business/organization.  Consider having someone else who is more comfortable with public speaking, and is knowledgeable about the subject matter, present instead. For, nothing kills a presentation faster than a bad presenter.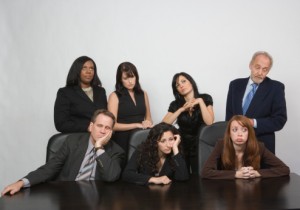 (Images courtesy of Getty Images)