Be Our Guest | PR Tips from FCG's Thanksgiving Dinner Table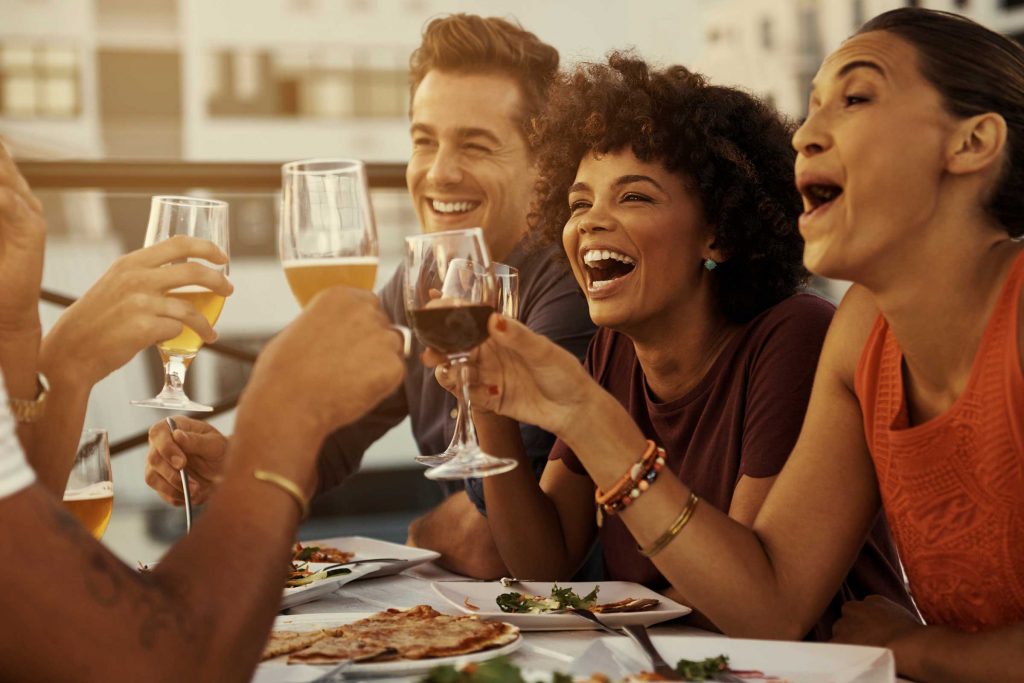 As PR professionals, we have all been guilty of being "too busy." Between the emails, deadlines, client dinners, conferences, travel and our 9-to-5, it can be hard to find time. But as the year comes to a close, we somehow make it work. We gather around a table to count our blessings, indulge in our favorite eats and connect with loved ones we may not have seen all year.
Some of us celebrate the Thanksgiving holiday with grandma who still makes her pies from scratch. Others celebrate with a group of friends who actually have some skills in the kitchen. (I usually bring the cocktails.)
No matter how you celebrate, a few things remain consistent: food, love, stories and laughter. Despite all of the hard work that goes into preparing these grand feasts, it's usually worth it.
As PR professionals, there are lots of things we can learn from our Thanksgiving celebrations. Here are a few:
Be Our Guest.
Imagine a Thanksgiving dinner without guests. No matter how great the décor and how delicious the meal, a guestless dinner is as much of a failure as a press release with no pickup.
Sometimes you have to ask yourself, "Why isn't anyone RSVP'ing?" Or, "Why isn't anyone showing interest in my story?" Media and bloggers are our dinner guests! They are the eager listeners of the stories we wish to share. If we aren't serving a nice, hot plate, they won't be interested in eating at our dinner table. When you can show your media that you prepared a storyline just for them, they will see the value and, perhaps, show a recurring interest in a seat at your table.
Everyone is (Not) Your Best Friend.
You get a Facebook invite from your friend, Ciara. She is hosting her annual "Friendsgiving" and even though you just met a few months ago, she really thinks you should come. At the same time, you get a text from Keith for Friendsgiving at his place. Uh oh – they're on the same day!
You've known Keith for years. You scroll through your messages, and the last message he sent was "Happy Birthday." The one before that was "Happy 4th of July." The one before that was "Housewarming Party at my place. Deets below – This is a group message. Don't reply all. (You +97others)." But Ciara messaged you yesterday to let you know she is making your favorite dessert, asked you what song you'd like to add to the party playlist and if you still liked your sandwiches cut diagonally. Where do you go?
As PR pros, we can't be Keith. Genuine relationships are key, and we cannot cultivate them by always delivering a generic "BCC" message that gets sent to every other journalist on our media list. Personalize your pitch!
Traditions. Traditions. Traditions.
Every family has its traditions. Anyone remember the Montgomery Ward's catalog? During the summer months, I would collect them. After Thanksgiving dinner, we'd clear the kids' table and cut away to create a "Christmas List" collage.
My niece and nephews still keep the tradition of group Christmas list-building alive, but they've done away with the paper mess. They've evolved with the times to Pinterest boards, Amazon links and group text messages that now replace the colorful vision boards my sisters and I once made.
The same goes for our PR campaigns. Some signature campaigns feel like tradition, but we cannot live in a catalog world when the world is now almost completely virtual. As PR professionals, it is our job to keep up and to keep improving. It does not matter if a campaign is coming back for a 5th or 15th year, our tactics should change so that we continue to engage the audience.
Everything in Moderation.
It's safe to say that most of us overindulge on Thanksgiving. And it's ok to do it once in a while because we must have balance. We don't always need to have that second (or third) serving to taste everything on the menu.
The same goes for how we reach out to media. Keep your pitching efforts strategic – no need to serve everything on the menu at once. Bundling a few stories once in a while is okay, but in order to be an effective storyteller and good media partner, we cannot afford to over-saturate media's inboxes with everything little thing.
Have fun!
One year, Mom forgot to defrost the turkey. You can only imagine, right? We spent all morning trying different ways to fix it – we sat it under running water, sat it near the heater – even took a blow dryer to it. None of that worked. That Thanksgiving, we had seven rotisserie chickens lined up as center pieces to our table. When my mother and I shared our morning efforts, no one missed the bird. It became the talk of the night. We had more laughter that year than ever before. We could have focused on our losses; but we came up with an alternative plan, and we had fun with it.
As PR pros, we will run into situations when things do not go as planned, but we must be nimble and be able to turn on a dime. It is our reaction to difficulties that ultimately determines our successes.
This Thanksgiving, I hope you find the time to disconnect from what has been keeping you busy, and reconnect with the people and things you have been distant from. As you count your blessings, I hope you can join me in including new career wins – and even the struggles – that have brought us to this very moment.
On behalf of the FCG Family, Happy Thanksgiving!
Daisy Garcia is an account director at FCG.