Go Camp or Go Home: Our notes on the Met Gala's "Camp: Notes on Fashion"
The extravagance of what is normally the Met Gala presented onlookers the opportunity to see the varied presentations of multicultural artists embodying the theme. The big gowns, the out-of-the-box creativity that fits into the theme, and of course, the long-awaited costumes based on Anna Wintour's designated theme were certainly the talk of social media and Black Twitter in particular. This year's theme – Camp – meaning everything ironic, everything over-the-top, and what we define today as "extra."
The reason camp exists is to defy societal fashion norms, anti-fashion if you will. It is not what trendy and definitely not every day wear is. It's almost unintentional expression, in that you are who you are and you happen to express that in exaggerated versions of yourself.
There is no denying that camp originated in the early multicultural LGBTQ+ community, when drag queens found the fun in fashion and the art of being extravagant. They dressed in costumes that were ironic and portrayed raw emotion and feelings that still represented their personalities.
The fashion and beauty industry is heavily influenced by drag. Drag queens were some of the first to push the boundaries of what is fashion. What we saw quite a few times on the Met Gala's "pink" carpet were celebrities pushing the fashion gender norms. There were a lot of androgynous looks and we can thank the LGBTQ+ community for paving the way for this. Drag fashion has always been over-the-top, free from judgement and basking in the glory that is to be the best version of you as you see fit.
With all the inspiration that comes from the LGBTQ+ community – fashion, pop culture references, beauty, and Hollywood entertainers – we sure do not do enough to represent this influential group. With their current buying power surpassing $1 trillion dollars, we should be acknowledging the immense recognition they deserve. They are more than the memes we use for a memorable moment, they are moving the culture forward.
Kudos to the strong recognition of the LGBTQ+ community at the biggest fashion event of the year. It was long overdue and it was amazing to see those who showed out. As one of the most underrepresented and misunderstood communities, we hope they were proud of this year's Met Gala and found inspiration knowing that they have allies in high places. We see you. Fashion sees you.
The following celebrities wove cultural insights and authentic creativity in their approach to paying homage to the camp originators who came before them, and who live on.
Here are our Top Picks:
Lena Waithe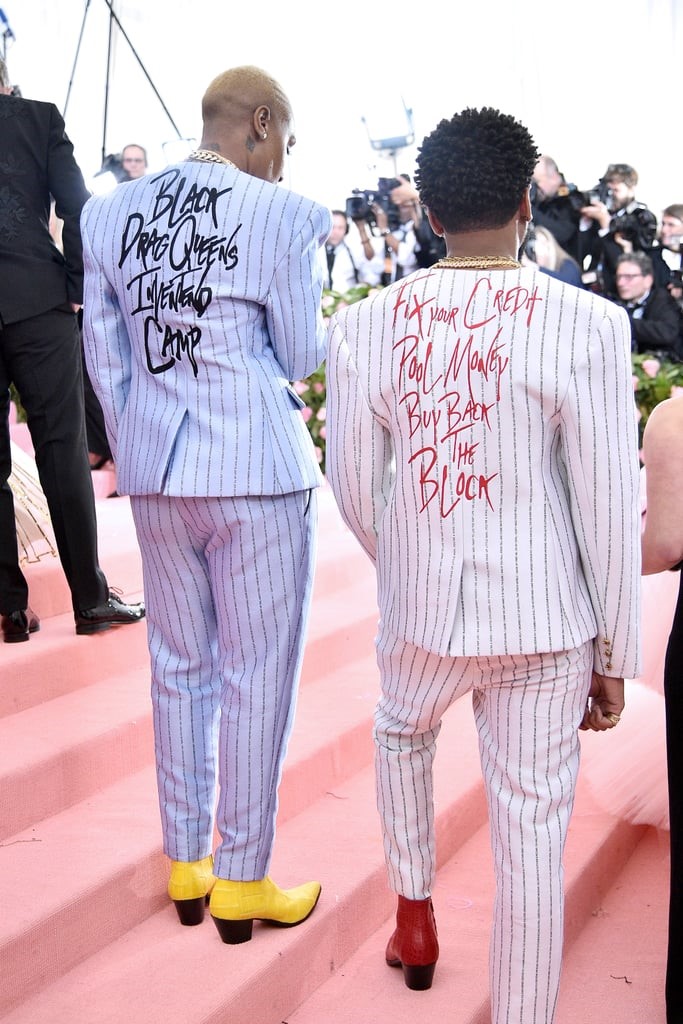 Source: Angela Weiss/Getty Images
You could not get more ironic than Lena Waithe's jacket, by Pyer Moss, that read "Black Drag Queens Invented Camp." What appeared as pinstripes were lyrics to Diana Ross's "I'm Coming Out" and Gloria Gaynor's "I Will Survive."
Billy Porter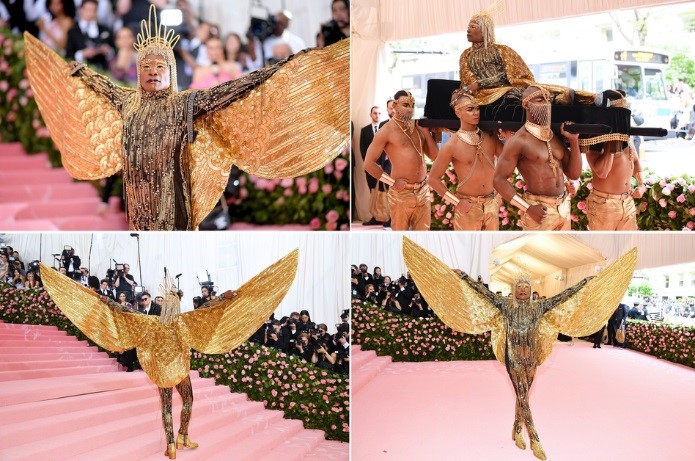 Source: Neilson Barnard/Getty Images
You cannot top extra if extra means you are Billy Porter – especially dressed in custom Christian Siriano. If being carried in on a chaise lounge by six men while being draped in gold doesn't scream "camp" then we don't know what does. Just when we thought it stopped there, Porter spread his gold wings – literally.
Lana Condor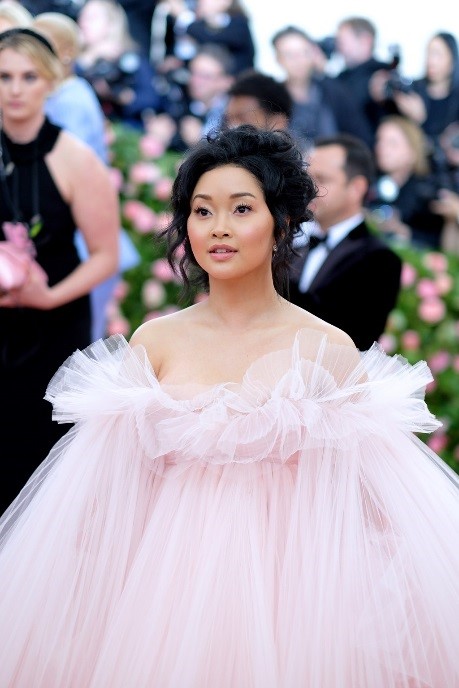 Source: Dimitrios Kambouris/Getty Images
In classic Giambattista Valli Couture fashion, Lana Condor wore a pale pink poufy tulle dress with a train to match.
Indya Moore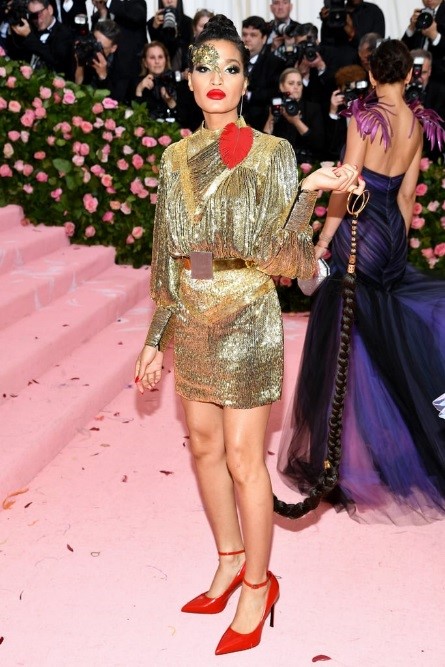 Source: Dimitrios Kambouris/Getty Images
The long-exaggerated braid says it all. We are loving the way Indya Moore shines in this gold mini dress from Louis Vuitton.
Janelle Monae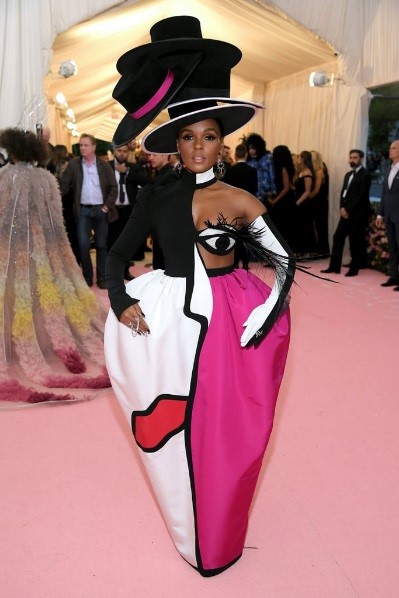 Source: Neilson Barnard/Getty Images
Janelle Monae, in Christian Siriano, has been channeling her inner camp since forever. Tuxedos, "PYNK" pants and now her Picasso-esque Met Gala Camp look. There's a hat on top of a hat, on top of a hat! 'Nuff said.
Awkwafina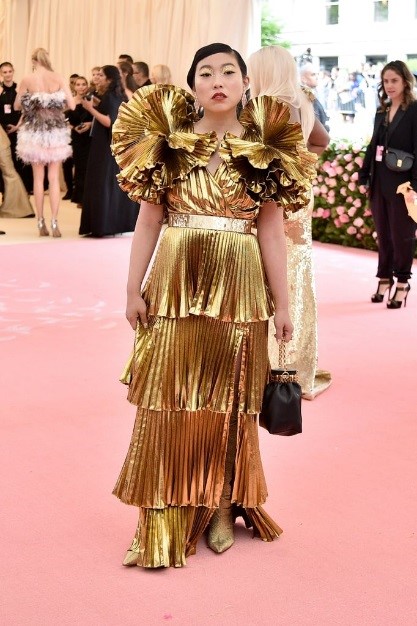 Source: Theo Wargo/Getty Images
Altuzarra designed this gold, layered and ruffled dress with two big pouf sleeves. Awkwafina looked stunning in all gold everything.
Lupita Nyong'o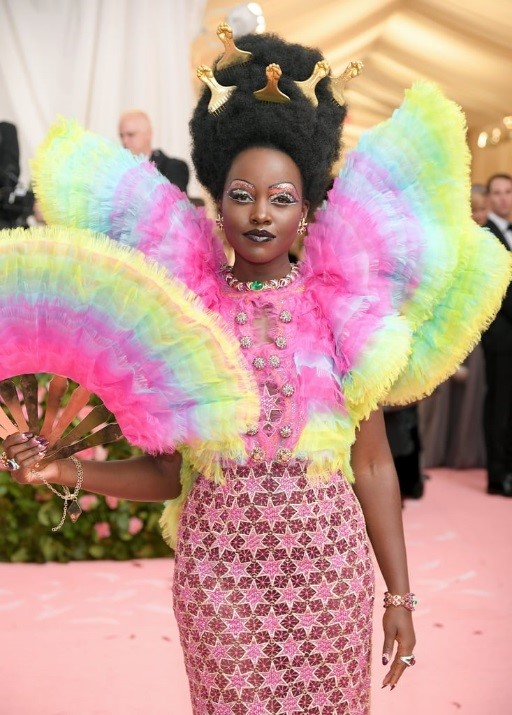 Source: Neilson Barnard/Getty Images
Lupita Nyong'o stepped out in Versace and exaggerated makeup that was inspired by Divine, a '70s drag queen. Her 'fro is decorated with gold hair picks.
Zendaya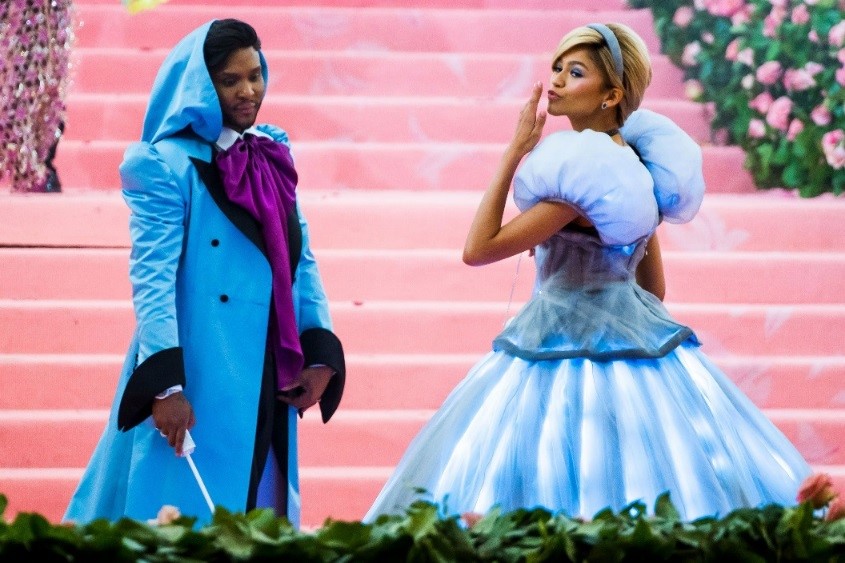 Source: Gotham/Getty Images
Bibbidi-bobbidi-boo! Zendaya slayed the mini theatrical performance as Cinderella when her dress lit up (thanks to her Fairy Godmother, Law Roach). In true form, she left her glass slipper behind. Shout out to Tommy Hilfiger for making our Cinderella fantasies come to life.
Priyanka Chopra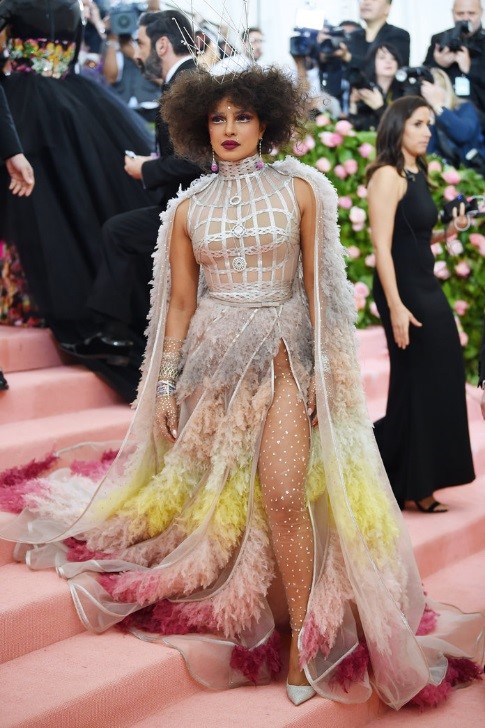 Source: Dimitrios Kambouris/Getty Images
Priyanka Chopra, in Dior Haute Couture, embraced a head full or curly hair complete with a large crown on the top of her head. Her cape was smothered in feathers that blended in with her skirt.
Zazie Beetz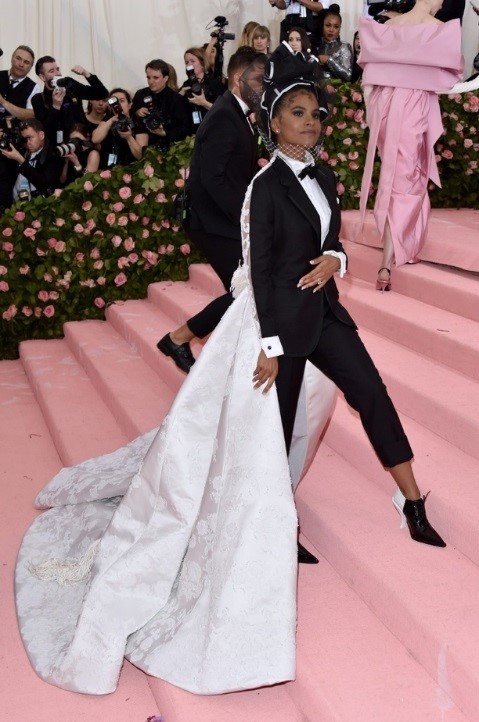 Source: John Shearer/Getty Images
This was Zazie Beetz's first Met Gala, and she nailed it. Dressed by Thom Browne, they channel the ridiculousness of a dress – tux. It's over the top and embodies the irony of it all.
RuPaul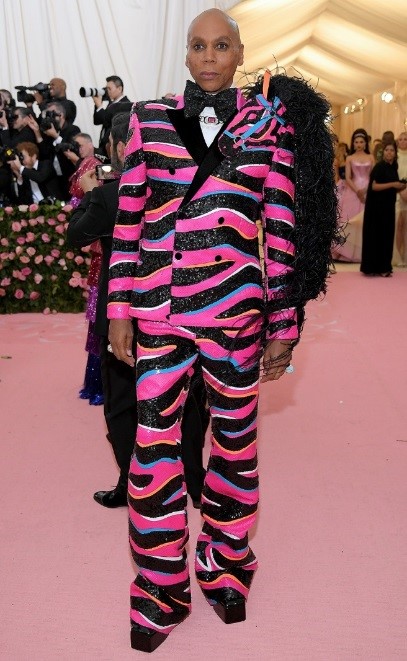 Source: Neilson Barnard/Getty Images
The mother of all things "Camp" – RuPaul. The outfit speaks for itself.
Maluma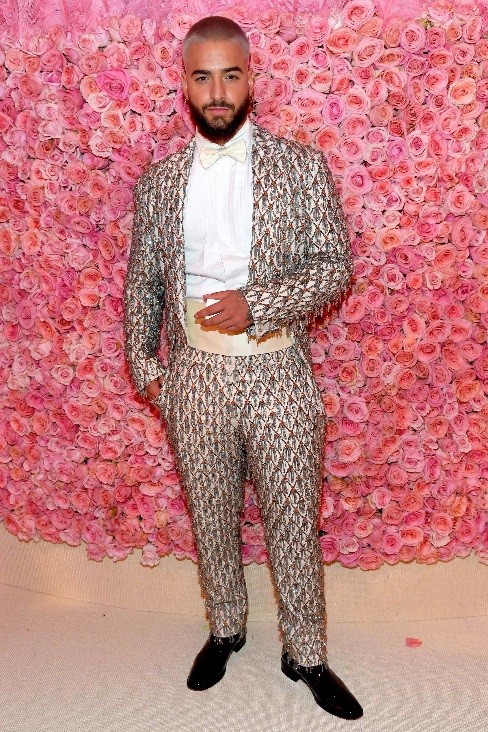 Source: Kevin Mazur/MG19
Maluma in Moschino – a super detailed, tassel studded suit.
Laverne Cox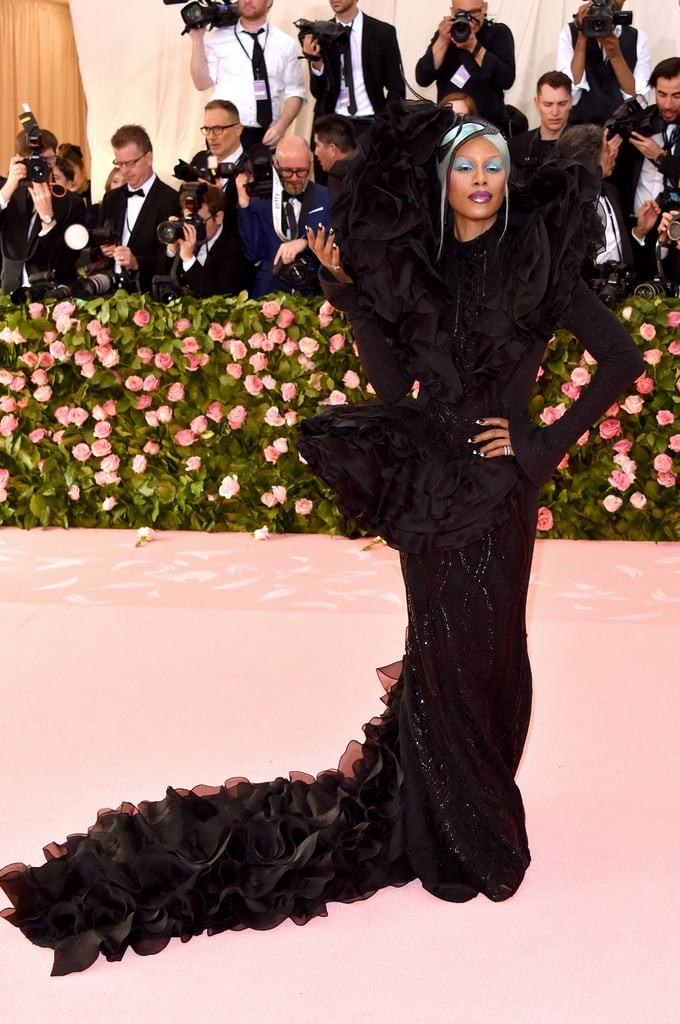 Source: John Shearer/Getty Images
Laverne Cox wore Christian Siriano and graced the pink carpet in glamour fashion.