Furthering King's Legacy Through Black Economic Empowerment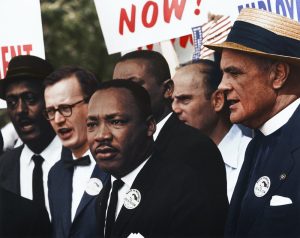 The legacy of Dr. Martin Luther King, Jr. still endures today, and indeed carries with it the hope for racial justice. A substantial part of his advocacy, one that oftentimes isn't discussed, is his push for economic justice and empowerment on behalf of Black people. These issues go hand in hand, and it's part of the everyday work done on behalf of clients at Flowers Communications Group.
When King delivered his famous "I Have a Dream" speech in 1963, flanked by more than 200,000 demonstrators, it was part of the March on Washington for Jobs and Freedom. Shortly before he was assassinated, he laid the groundwork for the Poor People's Campaign which, according to the King Institute at Stanford University, stemmed from his belief that not only were desegregation and voting rights essential, but also that African Americans and other minorities would never enter full citizenship until they had economic security. The campaign also had poor white communities in mind as well.
King's vision, then, was as much about eliminating racism as it was about ensuring Black people had access to the tools, resources and opportunities needed for them and their communities to truly thrive, and be able to equitably participate in America's economy.
While achieving the promise of King's vision requires major structural change, the client work supported by FCG points to the desire of some companies to make steps in the right direction, demonstrating a congruence between professed values of racial justice and monetary commitments that directly benefit Black communities. These efforts ensure that Black communities are partners in benefiting from the wealth they help generate for major companies, as well as an acknowledgement of how Black people have paved the way for some industries to thrive today.
For example, Ferrara Candy Company, which is the latest owner of the Famous Amos brand, has worked to honor the cookie's creator, Mr. Wally Amos, through the creation of its Ingredients for Success Entrepreneurs Initiative. The program is in its inaugural cycle and focuses on early-stage, Black-owned small business owners in need of mentorship and unrestricted grant funds, given racial disparities in access to capital for Black entrepreneurs and the relatively low success rate for new Black businesses compared to their white counterparts. In partnership with the National Black Chamber of Commerce, the program will award $50,000 to three Black business owners and connect them with the necessary resources for early growth and staying power.
In addition, FCG has supported media relations efforts for Foot Locker, Inc.'s Leading Education and Economic Development (LEED), which is a 5-year, $200 million commitment to supporting various programs and initiatives that directly benefit Black communities and honors the contributions of Black people to the vitality and richness embedded within sneaker and streetwear culture. LEED's investments include financially supporting venture capital firms, Black-led community organizations, training programs aimed at boosting diversity in sneaker design, among many other undertakings.
Efforts like these help ensure the Black community has a fair shot at economic vitality, as decades of disinvestment, neglect, and racist policies and practices have hindered Black people from realizing any semblance of financial freedom. As King said in his "I Have a Dream" speech, America has defaulted on the promissory note – one of life, liberty, and the pursuit of happiness – insofar as citizens of color are concerned. "Instead of honoring this sacred obligation," he noted, "America has given the Negro people a bad check, a check which has come back marked insufficient funds."
"But we refuse to believe that the bank of justice is bankrupt."