Expansion Without Exclusion: Another Brand Fiasco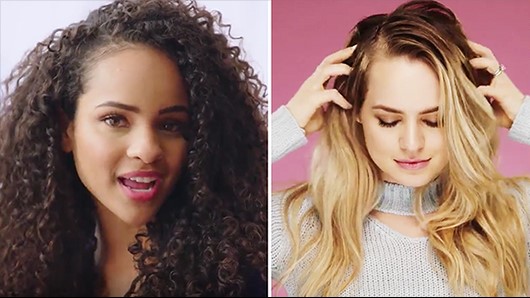 One would think that a hair brand that was founded by and has been supported by Black women since its launch, would know better than to exclude its core consumer group from what could have been a powerful advertising piece. Unfortunately, the lack of diversity in marketing continues to shine through one brand fiasco after another. This week, SheaMoisture released an ad that sparked outrage from some of its biggest supporters – many of whom now consider the brand to be "cancelled."
The advertising spot features three women sharing their personal experiences with #HairHate, and expressing how SheaMoisture enables them to embrace their "natural" hair. The piece ends with the women saying "Everybody gets love!" Without too much thought, you think that this is perfect message to get people talking about loving all hair types. But unfortunately, the ad failed to highlight Black or Hispanic women with kinky, coily or otherwise textured hair. (This is interesting because SheaMoisture's creative team collaborated with Perception Institute last year for a study about this very topic.)
Now, the problem isn't that the ad is attempting to appeal to a broader audience. We all understand that expansion is a natural part of any brand's growth. However, brands need to understand the cultural sensitivities and nuances for existing consumers when expansion occurs. Black women deal with hair hate on a daily basis, which has roots in historical stereotypes and references. This ranges from our own personal issues and struggles with hair maintenance, to society making us feel that the natural state of our hair is unkempt or unprofessional. Our executive vice president, Christina Steed, talked about this last year in a blog post, and we saw it recently when Black Twitter explored #BlackWomenAtWork.
The brand almost immediately pulled the ad, and offered an apology via social media, but the damage was already done.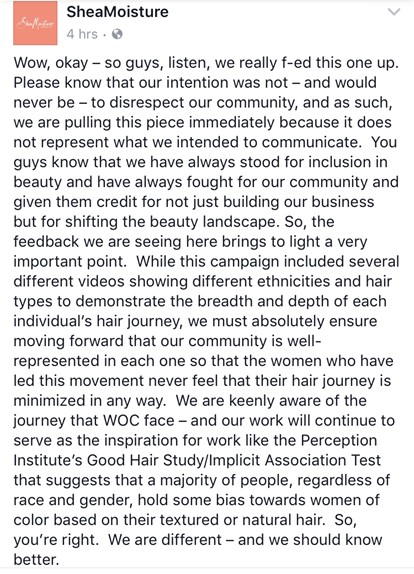 The apology itself is getting ridiculed because the brand is still dancing around addressing its core audience. The brand used the term WOC (women of color) instead of calling it like it is: Black women. Needless to say, Black women are furious about the ad, and with good reason. SheaMoisture has been known to tap into the natural hair movement, engaging the audiences of some of the most prominent Black hair influencers in the marketplace. But now, when the brand has an opportunity to use its platform to speak up for this audience, it decides to exclude it altogether. Of course, the apology fell on deaf ears, and in many ways, dug a deeper hole for the brand.
From a multicultural marketing perspective, I raise a simple question: how do you create a narrative that historically revolves around Black women, yet fail to include them? This piece could have sparked a fruitful and relevant conversation if executed to include at least one woman that SheaMoisture's most prominent consumer could relate to. In the end, brands and their external partners must have this lens when attempting to reach multicultural audiences if they want to prevent mishaps of this nature and save face in the future.
P.S. The fight to win back the hearts and minds of the core consumer will not be won with just advertising. The brand must have a strong, relevant, respectable conversation that only an integrated marketing plan can deliver. And that plan should have Black women's voices at the table through agencies or diverse hiring.
Nicole Pierce is an Account Supervisor at FCG.