Dr. King's Legacy Inspires Gen Z and Millennials to Dream On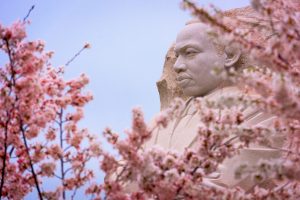 At FCG, we are proud of our multicultural, multigenerational DNA, which flows through our agency and is represented by talent across a broad, socioculturally attuned spectrum of diverse races, cultures, sexual orientations, and ages. In recognition of Martin Luther King Jr. Day, Baby Boomers at FCG reached out to some of our Gen Z and Millennials to get a better understanding of their perspectives on Dr King's work to advance the American Civil Rights Movement. Here's what our NextGen of thought leaders had to say.
What three words would you use to describe Dr. King?
"Influential. Change agent. Humanitarian."
"Unrelenting. Muse. Extraordinary."
"Courageous. Visionary. Human."
"Charismatic. Humble. Trailblazer."
When did you first learn about Dr. King and his legacy?
"When I was in 6th grade. I was commissioned by my elementary school to illustrate large format drawings of him and several other prolific Black people. They hung my illustrations all over the gym. Took me two weeks to finish the large illustrations. "
………………………
"I first "heard" about his legacy in school, but I feel like I actually "learned" about his life, legacy, and triumphs in my 20's working on the BMOA account at FCG. I had the honor and privilege to work on the account when Cirilo McSween was the BMOA president. McSween, was a close confidant of Martin Luther King, Jr., and served as one of King's pallbearers. His personal stories of Martin Luther King, Jr. were unmatched to anything I learned about in school. "
……………………
"Growing up in the church, in honor of Black History Month, my congregation had the youth recite speeches, poems, and brief biographies of Black historical figures, and perform inspired skits during a Sunday afternoon program every February. One year, I was assigned to deliver extended excerpts from the "I Have A Dream" speech, and had to commit the words to memory, not looking down at a sheet of paper whatsoever. Memorizing King's words and delivery was a challenge, but it left me with a better understanding of what my parents, grandparents and ancestors had to live through."
What impact do you feel Dr. King has had on your generation?
"In all honesty, his impact for my generation of Millennials has shown, we're extremely capable of more than what has been. Our ability to be compassionate and resolute in our pursuits to improve the world know no bounds. Part of me feels we've started to lose a bit of MLK and his teachings as time goes on, but the people who continue to live in his purpose give me hope."
………………………….
"As a Black woman who went to PWIs the majority of my life and witnessed other Black people occupying white spaces, I know that it would not have been possible without the lasting efforts of Dr. King."
…………………………
"King's activism, particularly as it pertained to race and class solidarity, has directly influenced the activism of the broader Black Lives Matter (BLM) movement. BLM isn't new, but rather a continuation of a struggle, and we stand on the shoulders of people like King whose revolutionary ideas — especially in the years immediately preceding his assassination — sought to shake up the status quo and achieve lasting change for marginalized people."
………………………….
"More people in my generation feel empowered to stand up for the things they believe in. That much is true in every regard. I may not be able to relate to everyone's passions, but he has emboldened an entire generation to voice their rights and pursue their dreams."
What makes the "I Have a Dream" speech still relevant today?
"What makes the "I Have a Dream" speech relevant today, is everyone has a dream, a want from life, and something they wish to accomplish. Hearing and remembering MLK provides support and fuel that they can work to improve the world, even if it doesn't happen during their own lifetime. What they and we do, can live on through another generation."
……………………………….
"Although Dr. King took us far as a people, there are still injustices occurring daily that are racially motivated. Until those injustices are resolved I believe that his speech will resonate now, as well as beyond then to serve as a reminder."
…………………………………
"Unfortunately, our community is "still dreaming," and it is JUST as relevant as it was in 1963. Obviously, some progress has been made, but racism and racial division in this country is still very much alive today. The battle for true liberation, equality and unity hasn't ended, and we all should still be pushing towards Martin's Dream."
No, no, we are not satisfied and we will not be satisfied until justice rolls down like waters and righteousness like a mighty stream.
Dr. Martin Luther King, Jr.